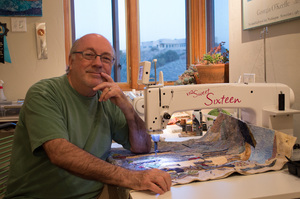 biography:
Originally from South Carolina, Rod spent his college years at the University of Florida earning his BA in Music Education before starting his career in Washington DC. While in DC, he worked as a professional musician and educator, and continued his own education earning his MA and PhD from the American University. At the same time, he spent 20 years performing with The United States Army Band. He also taught at the famed Duke Ellington School of the Arts. After retiring from the Army, he continued to teach until 2003 when he and his partner, Jim Carnevale relocated to New Mexico.
While in New Mexico, he accepted a position as a band director with the Albuquerque Public Schools. Throughout all of these years, he maintained an interest in the visual arts. He experimented with a variety of media but never found his passion until discovering fiber arts. In 2011, on a visit to studios at the Empty Spools Quilt Seminars in California, he stumbled in to a class led by Susan Carlson (SusanCarlson.com) and fell in love with the process of creating realistic and/or abstract images using tiny pieces of fabric. He was instantly hooked. Since that visit, he has studied under several artists and continues to develop his unique quilting techniques.
In July, 2018, Rod and his spouse made a permanent move to Lucca, Italy, in the heart of Tuscany to enjoy la doce vita. In Italy, Rod is actively building connections with the art community and developing opportunities to display his work and share his techniques.
Rod's work has been displayed in the New Mexico capitol building, the Harwood Museum of the American West, the Texas Quilt Museum, the Rocky Mountain Quilt Museum, major quilt exhibitions including "Road to California" and the Houston International Quilt Show, as well as numerous venues in the Southwestern United States. More recently, his work has been displayed in Normandy, France and Lucca, Italy. His work also has been featured in Quilt Artist Magazine, The Quilter, Quilter's Home, as well as local publications in New Mexico. In November, 2018, Rod's art quilts were featured in an article in the Italian magazine The Grapevine. In 2015 he was the Artist in Residence at the Empty Spools Seminars in Pacific Grove, California on the Monterey Peninsula. He was on the faculty of Empty Spools Seminars in 2017 and 2018. He is currently teaching his technique to quilt guilds and other workshops.
Rod is a member of SAQA - Studio Art Quilt Associates.
---

artist statement:
I use colors and textures of fiber to create images that inspire me and hopefully inspire others. Being a resident of New Mexico, many of my pieces reflect the culture of the Southwest. Frequently I find my inspiration in the photography of my spouse, Jim Carnevale. My goal is to create images that tell a story and lift our spirits.